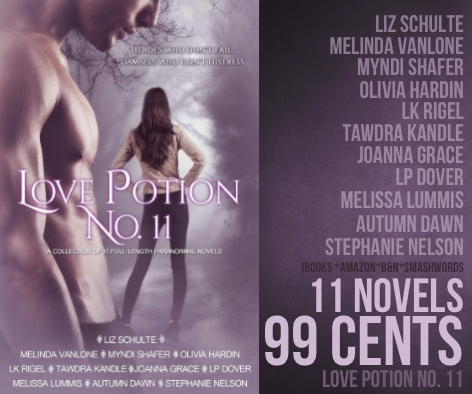 What do you get when you take eleven awesome paranormal authors, toss them into one box set, and turn up the heat?
This box set contains ELEVEN full-length novels from eleven authors. And right now. . .for a limited time. . .it's only 99 cents.
Talk about a bang for your buck.
Eleven full length paranormal novels celebrating strong women, sizzling hot heroes, and all the things that go bump in the night.
Featured author Melinda VanLone finds her work is inspired by music. Check out her playlist for STRONGER THAN MAGIC:
Wicked Game - Chris Isaak
This Years Love - David Gray
Chasing Cars - Snow Patrol
A Thousand Years - Christina Perri
Let Her Go - Tyler Ward
Ring of Fire - Avi Kaplan
Set Fire to the Rain - Adele
Let It Go - Idina Menzel
Hallelujah - Rufus Wainwright
When You Say Nothing at All - Alison Krauss & Union Station
Stronger Than Magic
Tarian Xannon fights demons like the rest of us. This time, the demon just happens to be real.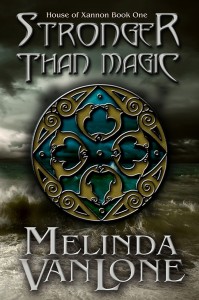 In a world of magic, hidden away from those who have no power, Tarian Xannon commands the natural forces of water, air, and fire. As heir to the Dolphin Throne, her job is to learn what it takes to lead—but she'd much rather forget the heavy weight of responsibility in the waves of the ocean. When Tarian is brutally attacked she faces the shocking reality her talent, while strong, is no match for the demon-like creature. As her defenses wane, his attacks grow bolder. All she knows and loves hangs in the balance.
Tarian fights not only to keep the throne she thought she hated, but to accept her true place in the world. Will her power be enough? Or are some things stronger than magic?
Melinda VanLone writes fantasy and science fiction, freelances as a graphic designer, and dabbles in photography. She currently lives in Rockville, Maryland, with her husband and furbabies. When she's not playing with her imaginary friends you can find her playing World of Warcraft, wandering aimlessly through the streets taking photos, or hovered over coffee in Starbucks.
Find Melinda:
Buy the set now!
Meet all the authors
and enjoy fun tidbits from the books by visiting a
different blog every day!